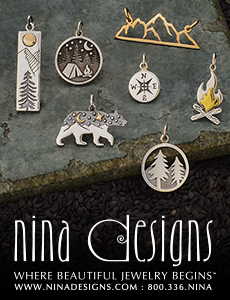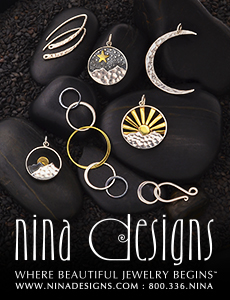 The Nina Designs Mixed Metals Collection gathers in one place some of our best sellers. Jewelry designers can't get enough of the richness from layering warm bronze with cool sterling silver. So, whether it's the rustic look of the landscape charms, or the modern look of the honeycomb & bee charms, there's something for everyone in this popular collection.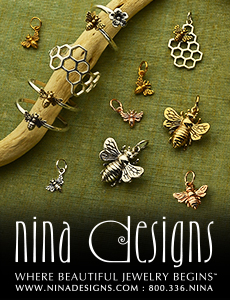 Discover the sweetness of Nina Designs Honey Bee Collection Find all the charms & links you need to make jewelry women will love - sweet little bees on earrings & necklaces, and more bees layered onto honeycombs, hexagons, and flower charms. Discover what all the buzz is about!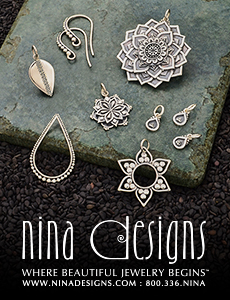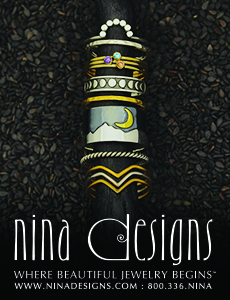 Dive into new design possibilities with our collection of elegant finger rings. Stack sterling silver rings mixed with gold or bronze rings to create dramatic combinations. Either way, these new jewelry parts open the door to ring sales for designers who don't solder metals. Finger Rings make great gifts for friends or for yourself! We have combined classic silhouettes with fun patterns to create a line of rings with a distinctive look. Feel free to mix and match! We hope you enjoy these rings as much as we do!
The romantic compass is the instrument of the high seas. Used to indicate the direction of the changing winds, compass and inspirational jewelry will lead the way. Find your true north, and let a classic compass guide you. Perfect for graduation! Shop now!
Celestial Charms & Pendants
Celestial themed charms are fun and mystical. Add a touch of the sky to your jewelry, and shop for other star and moon charms!
Tree of Life Charms
Celebrate family, nature, and the symbolism of staying grounded with our always-growing collection of tree of life charms!
A symbol representing boundlessness, and a journey or love with no end. Shop our wide variety of versatile infinity links now!