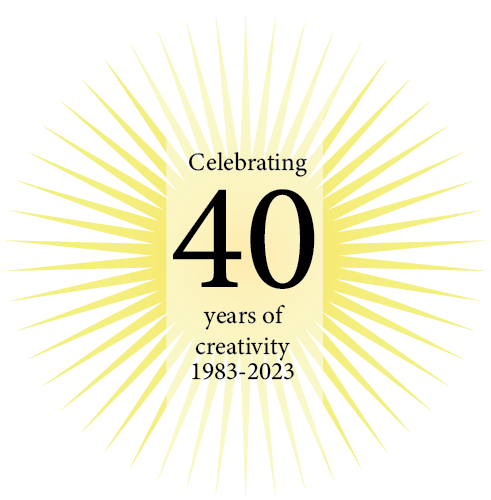 To celebrate our 40th anniversary year, I will be donating $1,000 each month to a different non-profit chosen to align with our core mission: Inspiring Beauty & Creativity While Caring for People & Our Planet. Thank you for all the years of support! See our monthly donations here:
January 2023 - Homelessness
End Homelessness - "The National Alliance to End Homelessness is a nonpartisan organization committed to preventing and ending homelessness in the United States.""
February 2023 - Voting Rights
Brennan Center for Justice - "The Brennan Center for Justice is an independent, nonpartisan law and policy organization that works to reform, revitalize, and when necessary, defend our country's systems of democracy and justice."
March 2023 - Women's Rights
Global Fund for Women - "We offer flexible feminist funding and support to fuel collective action and create meaningful change that will last beyond our lifetimes"
April 2023 - Environment
Earth Justice - "Earthjustice is the premier nonprofit public interest environmental law organization. We wield the power of law and the strength of partnership to protect people's health, to preserve magnificent places and wildlife, to advance clean energy, and to combat climate change."
May 2023 - Assisting people living with physical & mental illness or disability
Solemen Indonesia - "Solemen's driving passion is to alleviate the suffering of so many in Bali through community outreach, medical intervention, food aid, education, and when needed disaster response."
June 2023 - LGBTQ+
The Trevor Project - "We believe LGBTQ young people deserve a welcoming, loving world. And we wake up every day dedicated to making that a reality."
July 2023 - Hunger
Alameda County Community Food Bank - "Food is a basic human right. We work towards a stronger, more nourished Alameda County, where no one worries where their next meal will come from."
August 2023 - Oceans
Seacology - "Seacology's mission is to protect threatened island ecosystems all over the world. We do that by working directly with communities, helping them to preserve their cultures and improve their lives while saving precious island habitats."
September 2023 - Children
OneSky - "We partner with communities to provide quality responsive care and early education training to adults, so vulnerable young children can thrive."
At Nina Designs our mission is to "Inspire Beauty and Creativity while Caring for People and our Planet".
This mission informs everything we do, including our commitment to philanthropy. We strongly believe that businesses have a responsibility to contribute to the world in a positive way. Every year we make donations to support organizations that help people achieve their potential and create a sustainable future. We also support nonprofits working to defend the environmental or to improve animal welfare.
Each year we choose one organization for a major donation!
2022 - $2,000 Planned Parenthood
2021 - $2,000 Voting Rights
2020 - $2,000 Alameda County Food Bank
Below you will find a partial list of organizations we have donated to over the years:

Slum School on Trash Mountain
The Slum School that Safe Childhoods has constructed provides a safe and clean environment, where children can learn and play. Safe Childhoods believes in the power of education and aims to break the vicious poverty 'cycle' at Trash Mountain. Providing education reduces the likeliness of these vulnerable and at-risk children entering the sex industry.
Sacred Childhood Foundation
An organization dedicated to uplifting children out of extreme poverty, abuse, and trafficking so they can lead healthy, happy lives, become educated, and break the cycle of poverty.
Yayasan Seng Hati (Happy Heart Foundation)
This non-profit foundation in Bali is operated by people with disabilities. It provides vocational training, communal living and arts programs.
Nina Designs and our generous customers also contributed to both the Bali bombing and Tsunami relief through the Idep Foundation.