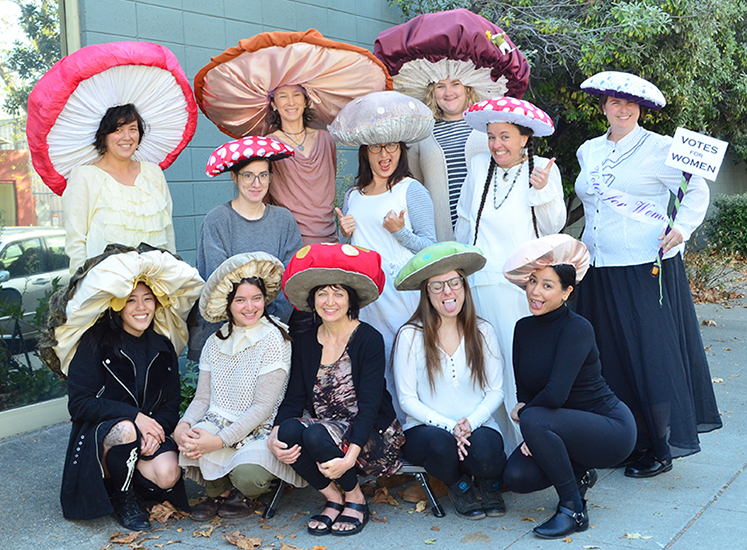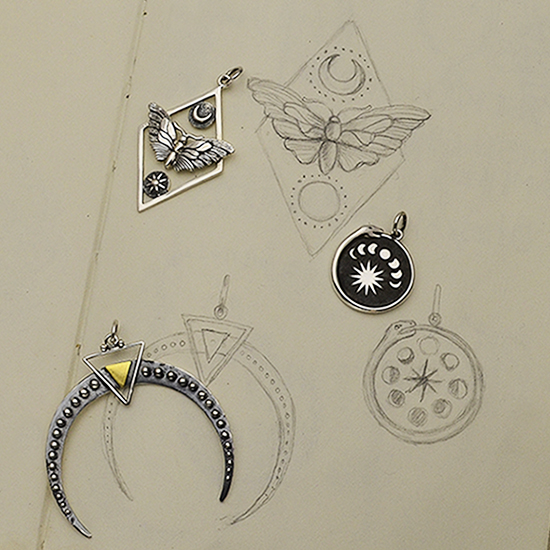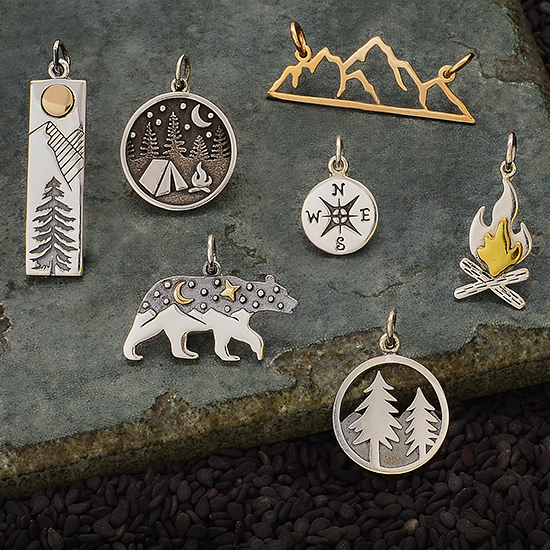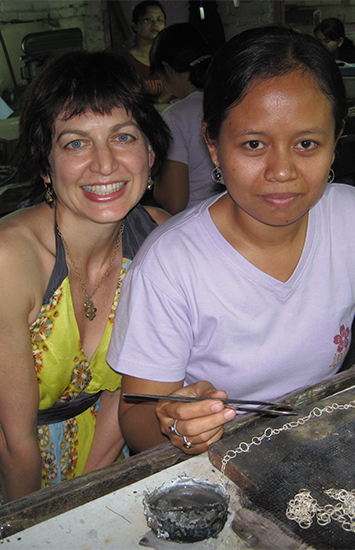 Core Values: Creativity, Excellence, Respect, Teamwork, Initiative and Inspiration
Our mission at Nina Designs is to provide you with the products and inspiration you need to realize your own creative vision. Most of our designs begin as a dream. We have an idea, sketch it out in meticulous detail and send it to Asia where it is brought to life by our talented silversmiths in Bali and Thailand. These skilled artisans are a treasured part of our jewelry community and we treat them with the respect they deserve.
In a turbulent world, beautiful art plays an important role by lifting our spirits and nurturing our creativity. At its best, jewelry is art that enriches daily life, both for the person wearing it and for those who notice it. Like many of you, I seem to have been born with a love of jewelry and jewelry making. As a little girl admiring ancient treasures at the Metropolitan Museum of Art, I discovered a passion that would last a lifetime. After three decades of working with jewelry designers from around the world, that passion has not diminished.
When I founded Nina Designs in 1983, I was determined to create a company that had a positive impact on the world. This commitment informs every aspect of Nina Designs, from our commitment to fair trade, to our micro-loan program, from our efforts to care for the planet, to our carefully crafted company culture.
Fair Trade
Our commitment to fair trade began long before there was a term for it. When I began my company, silverwork was bought and sold by the gram. If buyers struck a hard bargain, it was the labor cost that got cut and silversmiths were left with little or no pay. From the beginning, I negotiated fair prices for each style I commissioned, paying by the piece instead of by the gram. In return, the silversmiths gave me their best work, allowing me to build a brand known for its quality and consistency. As the company grew, we stayed true to our principals, expanding our commitment to fair pay to include benefits and equal pay and opportunities for women in management as well as production. Click here for more details about our fair trade philosophy and labor practices.
Green Silver
There is no getting around the fact that silver mining is destructive. For many years I felt paralyzed and overwhelmed by the intractability of environmental degradation. Then I read about Ray Anderson and how he found a way to green his company, which made carpeting. Surely, if he could succeed with a petroleum product, I could make progress with our company. I started by estimating our carbon footprint and then established a carbon offset program with Trees for the Future. We agreed to plant a tree for every box we ship. Their organization helps people plant and nurture crop bearing trees that provide nutrition, income and protection for other crops. To date we have helped plant over 100,000 trees!. Read more about our Greening program.
Microloans Funded by Nina Designs
As a female entrepreneur, I could not help but notice the special challenges faced by women business owners in developing countries. Access to capital is severely restricted and expensive in many parts of the world, and it is even more limited for women. In response, Nina Designs launched a microloan program for women artisans. To date we have funded over $200,000 in loans to over 500 women in over 30 countries! Their beautiful products span over 50 categories including jewelry, masks, clothing, embroidery, handbags and baskets. Read more about the microloan program here.
Philanthropy
Nina Designs is committed to supporting the communities where our products are made . Likewise, we are honored to support organizations that provide services in our local community. We also contribute to groups working to mitigate climate change. Material and financial support is provided to many charitable organizations. Read more about our philanthropic contributions here.
Culture
Too many people in the world wake up each morning and head to a toxic workplace that leaves them feeling depleted, dehumanized and unappreciated. When I started my company, I had a vision of a place where we could be professional but bring our humanity with us to work. To accomplish this, we rely on careful communication and a commitment to shared values. Every day at Nina Designs we strive to live up to our core values of Creativity, Excellence, Respect, Teamwork, Initiative and Inspiration. We crafted this list together and we work hard to embody their spirit in our interactions with each other, with our customers, with our silversmiths, and with our environment.