Frequently Asked Questions - Metal Jewelry Laws
---
Feel free to call us at 1-800-336-6462 or email nina@ninadesigns.com if you still have questions after reading the information below.
---
How does Nina Designs comply with laws regulating metal jewelry?
Both the Federal Government and the State of California have laws with regulations and testing requirements for metal jewelry. Our metal products are made from Sterling Silver, Gold and Bronze (an alloy of copper and tin), with small amounts of other elements such as nickel or palladium as under-coats on plated items.
As required, we have established a testing schedule for lead and cadmium with an accredited lab. Our products met the California Adult Jewelry Lead Content Standard of Prop 65. Due to extremely stringent requirements, our jewelry may not meet the standard for Children's Jewelry. Our Testing Certificates are displayed at the bottom of this page.
---
Federal Law:
Regulations are issued by the Consumer Product Safety Commission or CPSC. The federal government issued CPSIA (Consumer Product Safety Improvement Act of 2008) which regulates lead in Children's jewelry.
Visit Consumer Product Safety Commission website.
Visit Consumer Product Safety Improvement Act of 2008 for more details.
Current Federal law regarding lead content in "children's jewelry" is being challenged by many states. Due to the confusing and contradictory nature of the legislative process we cannot advise as to whether our products will meet the wide ranging, and ever changing criteria for "children's jewelry." However, Nina Designs DOES NOT market its products to or for children.
The State of California:
California has a specific law regulating metal jewelry, called the "Metal Containing Jewelry Laws, State of CA."
Description of the law from California Department of Toxic Substances website:
California's Metal Containing Jewelry Law "Forbids a person to manufacture, ship, sell, or offer for retail sale or offer for promotional purposes jewelry in California unless it is made entirely from one or more of the materials specified in the law; mandates lead restrictions for certain of the specified materials allowed in manufacturing jewelry; and establishes separate provisions for children's jewelry, body-piercing jewelry, and all other jewelry.
After California enacted the Lead-Containing Jewelry Law to place limits on lead levels in jewelry, some manufacturers replaced lead with cadmium, which is also toxic. In response, California's legislature amended the Lead-Containing Jewelry law (now known as the Metal-Containing Jewelry Law) to restrict not only lead, but also cadmium, in children's jewelry. Cadmium levels in children's jewelry must be less than 100 parts per million, by weight."
According to the California law, Sterling Silver and Karat Gold are Class 1 materials while Bronze and Copper are Class 2 materials, both of which are acceptable for use in metal jewelry. It is our understanding that there are currently no testing specifications for Sterling Silver. As stated above, Nina Designs DOES NOT market its products to or for children.
Nina Designs provides this information as a public service and believes that it is substantially true and correct. It is not provided as a legal opinion and should not be relied upon as such by businesses in their efforts to comply with current legislation in any country.
---
May 2021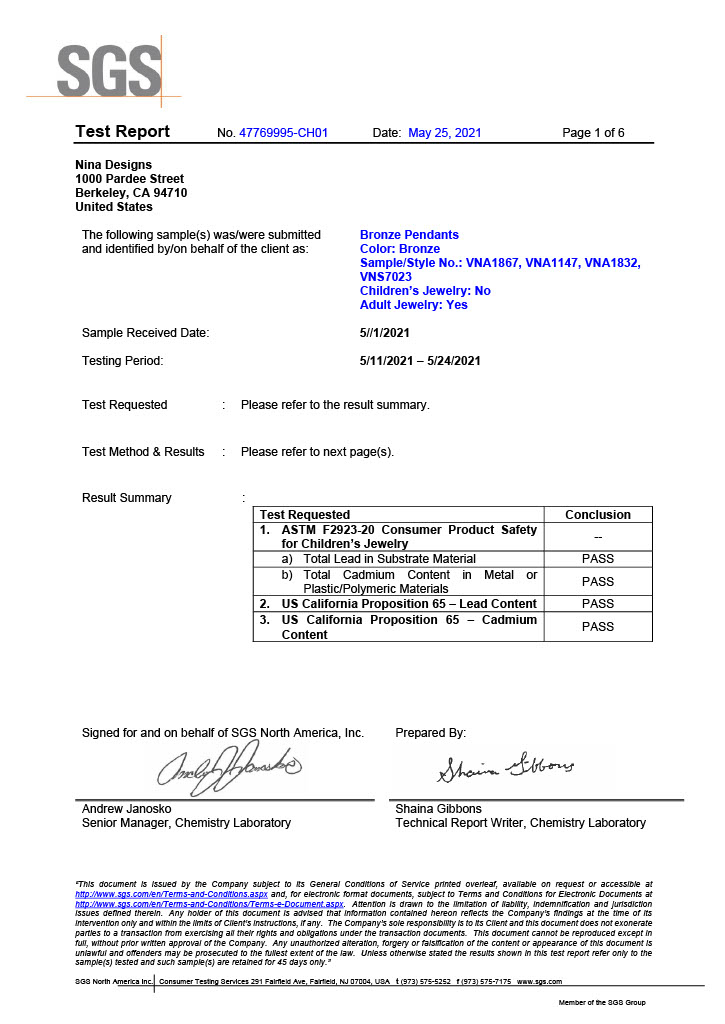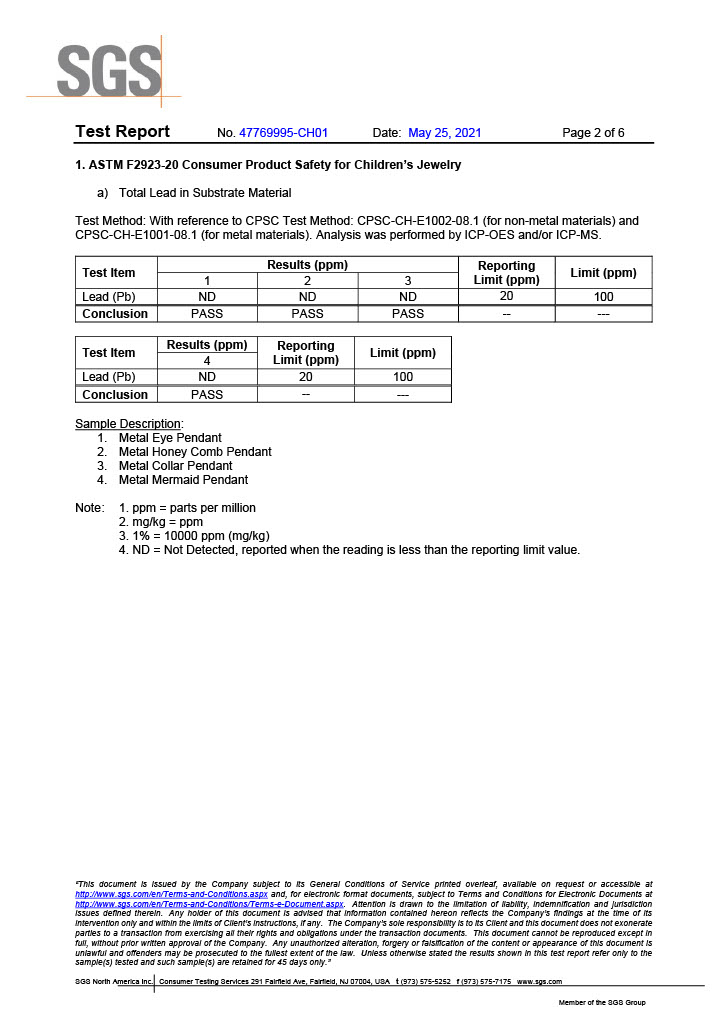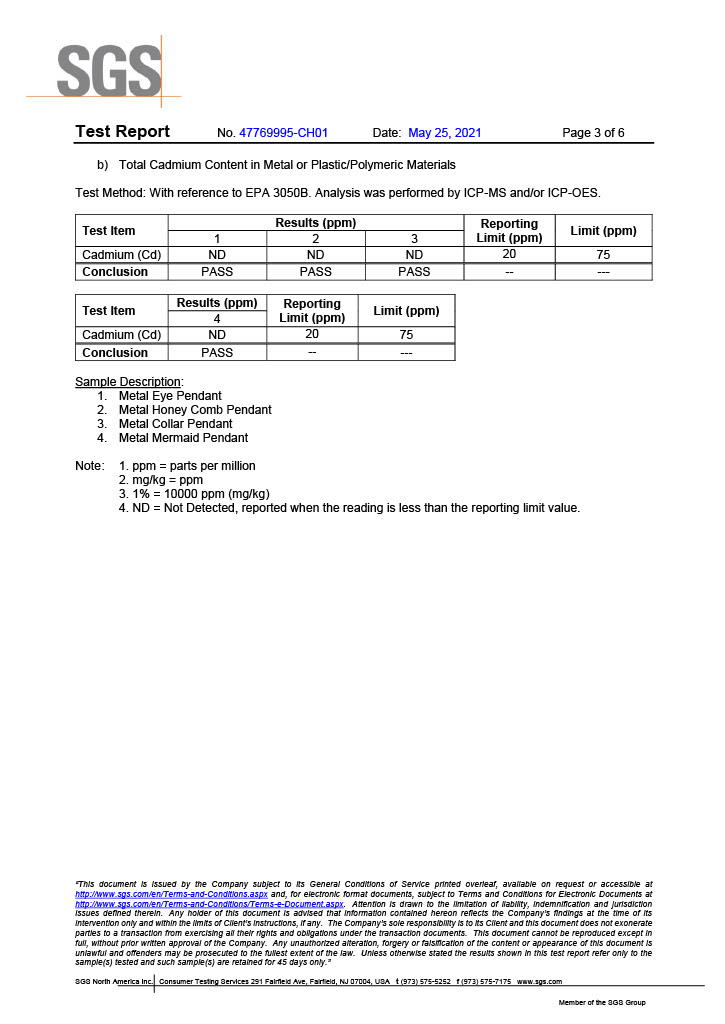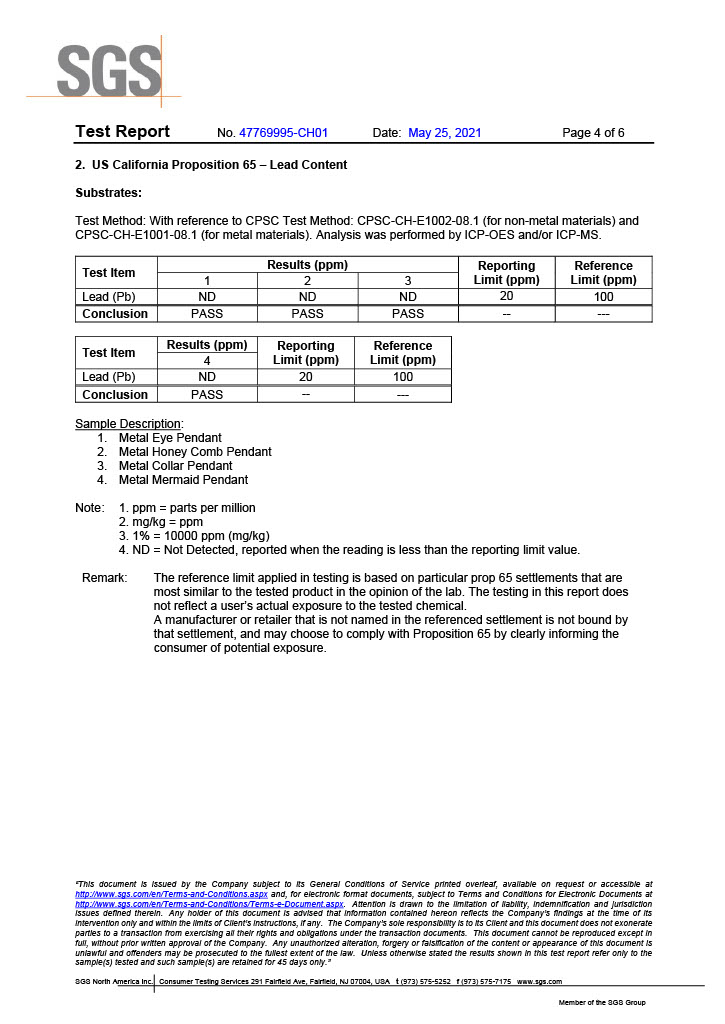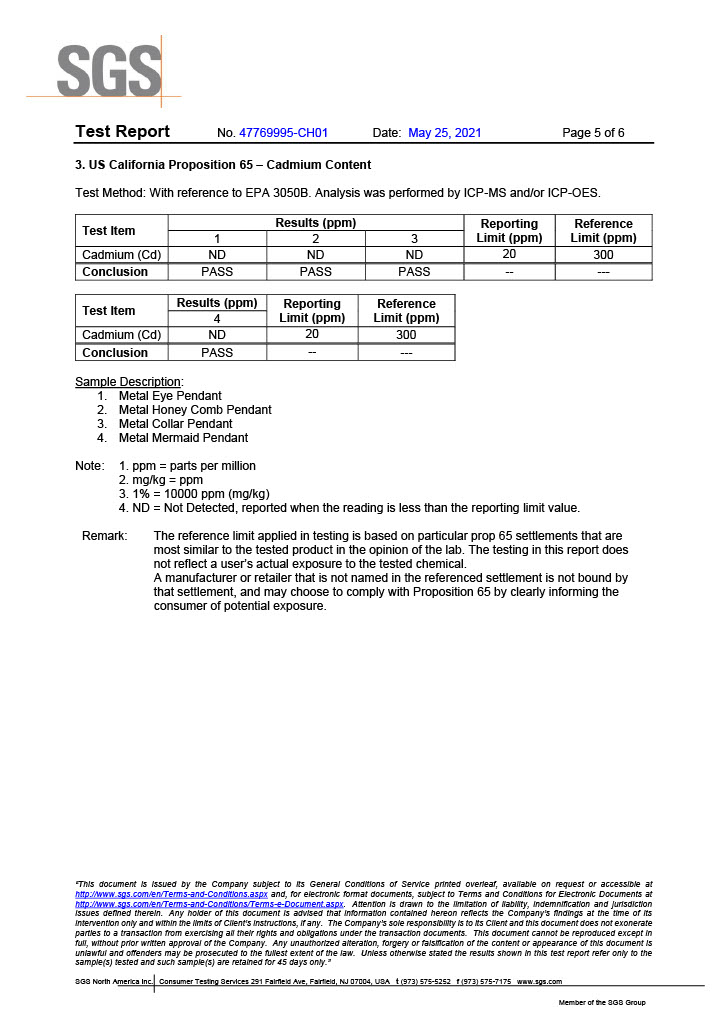 May 2019
May 2018
January 2017