Constellation Cuffs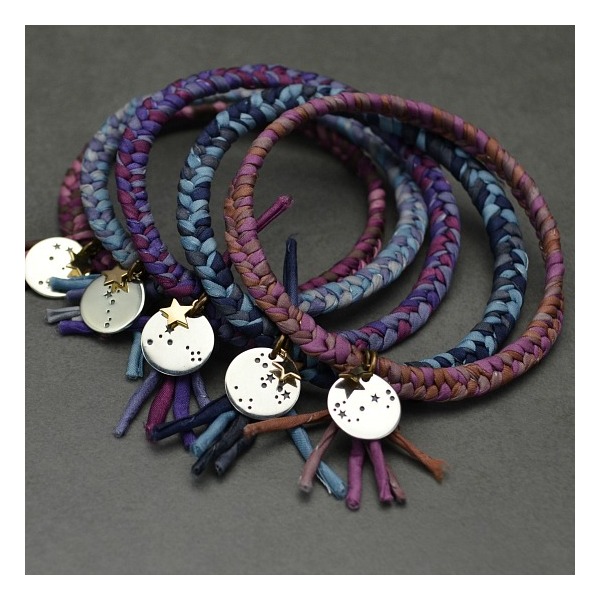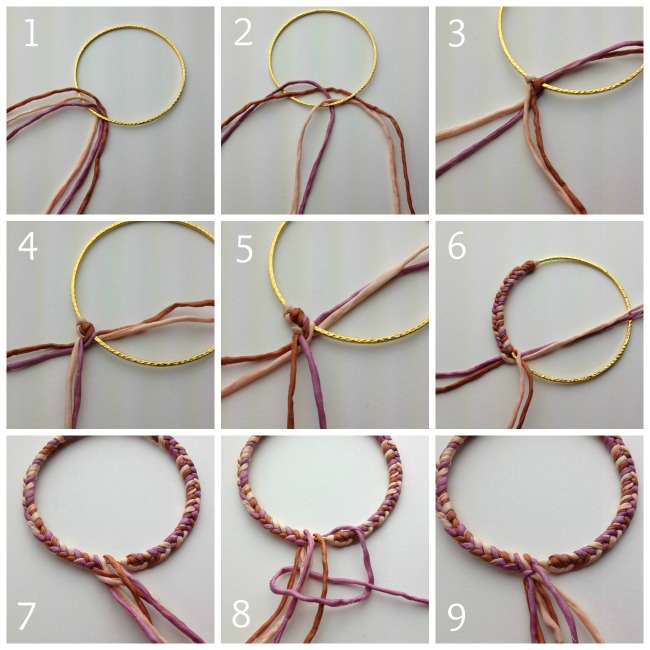 Designed by Marcy
The perfect personalized bangles for you or a friend, representing the constellation that represents who you are. Zodiac star map charms are a wonderful, shiny addition to these braided beauties, and the dreamy cosmic colors will have you feeling like a space queen.
Please Note: We no longer offer Silk Cord, we apologize for the inconvenience.
All you have to do to achieve this look is braid colorful silk around our sterling bangles. Here are the steps on how to do so:
1. Thread 3 different colors of silk through the bangle bracelet, and fold them in half so that you have the same length of cord on either side.
2. Pair up the silk cord in 3 different color combinations, this way, when you start to braid, the cord will have more variations of color mixing.
3. Make your first braid stroke around the bangle to secure all of the cords.
4. Start braiding.
5. Every time you braid from right to left, wrap around the bangle bracelet.
6. Braid around the entire bracelet in the same fashion.
7. Continue the braid until the entire bangle is covered, back to where the braid started.
8. Once you're to the end, take one of the silk strands and tie a side knot around the rest of the silk strand.
9. Pull it tight and trim the ends of the silk.
Finish by attaching your charms with jump rings directly on to the bangle, between the beginning and end of the braid.
Watch our how-to video and learn to make your own Constellation Cuff Bracelets!