How to Stamp Silver Jewelry
---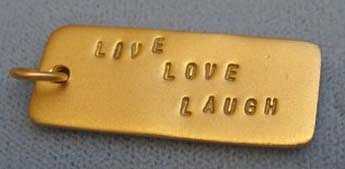 It is easier than you think to add a few letters and personalize jewelry!
Tools & Materials:
We purchased all the tools for this project from Rio Grande for under $100. This included a steel block (#112485), a heavy brass hammer (#112330) and a set of upper case metal letter stamps (#111342).
Thanks to Patti Sowell at Rio Grande for showing me how to use Letter Stamps and allowing me to post the photos!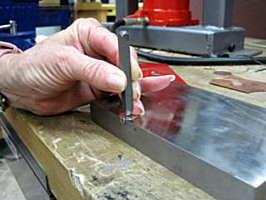 Place your steel bench block on a piece of wood. Place your silver jewelry item completely FLAT on the steel block. If your silver has a jump ring attached, remove the ring or position the silver so that the ring hangs over the edge of the block, as in our photo. Position the metal stamp on the silver, but check first to make sure your letter is not upside down! The stamp must be perpendicular to the silver. To avoid slippage, brace the stamp at the bottom with two fingers resting behind it just above the silver.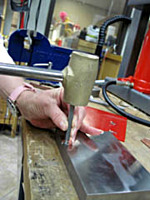 Let the hammer fall directly onto the head of the stamp. Don't use too much force or the reverse side of the silver will be marred. It will take some experimenting to determine how hard to hammer. Learning to space the letters accurately takes some practice as well. Some people use a dry erase pen to draw a guide line that wipes away easily after stamping.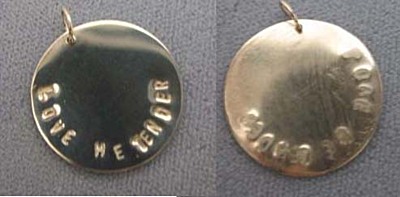 What can I stamp? In general, thick, flat items produce the best stamping results. Some of the most popular items from our line that people like to stamp are: Round Tag, Rectangle Tag and Small Round Tag. Many people stamp our gold plated items, but you should do your own tests. If you stamp the wafer thin spangles, the letters will show through on the reverse side, as seen in the photos on the right.

Some of our clients use a fine tip sharpie marker to color in the recessed area. This creates dark lettering with an antique feel and makes the words more legible, especially on gold plated pieces. The 'groovy' example is hand stamped, the 'love' example is one of our regular cast word tags.