How to Use Sterling Silver Pinch Bails
---
Follow these step by step instructions to learn how to use pinch bails. It's easy to create elegant jewelry using diverse materials with our Sterling Silver Pinch Bails. Try stringing these pendants on our colorful silk and leather! Shop our favorite Pinch Bail.
Use a chain nose or needle nose pliers to gently open the pinch bail. Slip the pliers into the bail and exert pressure from the inside to avoid making marks on the silver.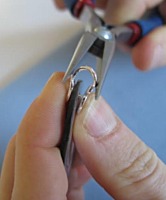 Slip the prongs of the bail into the pendant hole. Gently press the bail closed by gripping the bail toward the top and exerting pressure. Position the pliers at the widest part of the bail. This is the most effective position to get the inside prongs to meet and securely hold the pendant.
Don't pinch the decorative area of the bail where the prongs are. The bail won't close as tightly and there may be a gap between the inside prongs. Additionally you might mar the design with marks from the pliers and the pendant below could crack.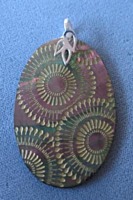 Your pendant is ready to use!
Shop our lovely Leather Laces or Silk to complete your Necklace!