How to Wire Wrap a Briolette Drop
---

Use Silver Jewelry Wire to wire wrap a drop by following these simple steps.
Here's What You'll Need:
Briolettes
Chain Nose Pliers
Round Nose Plier
Wire Cutters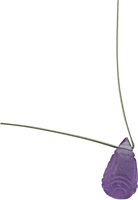 Cut a piece of silver wire 3 inches long.
Make a 90 degree bend in the middle of the wire.
Slide the drop onto the wire.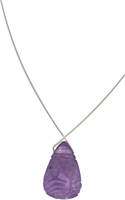 Use your pliers to create a sharp bend in the wire at one corner of the drop.
Adjust the space above the drop to leave enough room for it to swing freely.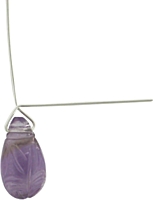 Use your chain nose pliers to bend the longer wire where the wires cross. It should point straight up.
Bend the short wire sharply. It should lay horizontal, forming a right angle with the longer wire.
Hold the crossed wires still with the pliers and wrap the shorter wire around the long wire 2 or 3 times.

Clip the excess wire close to the coil.
Press the tip flush with a chain nose pliers.
For a quick and easy video tutorial of how to wire wrap a briolette click here.